EXPLORER PIPELINE REMINDS HOMEOWNERS TO DIAL 811 WHEN CLEANING UP STORM DAMAGE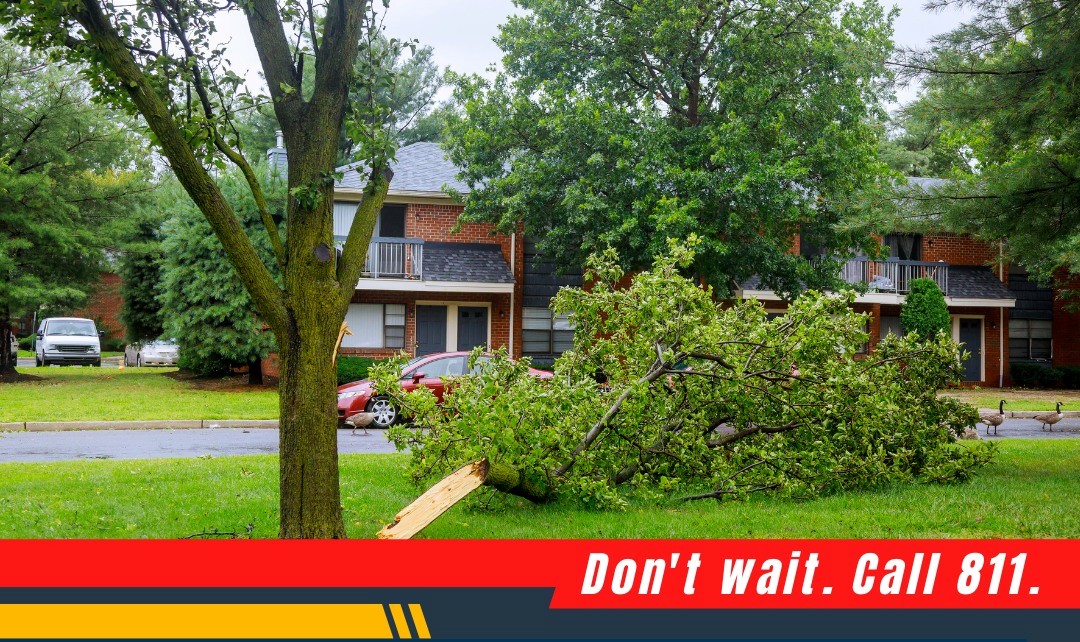 TULSA, OK (July 20, 2023) Let's face it – Oklahoma weather is a whirlwind. During the spring and summer months, Tulsa and surrounding counties will often see sunshine, hail, and cold fronts all in the same day. The last few weeks have brought significant thunderstorms with 100+ mph winds, with more storms in the forecast in the coming weeks. During the week of June 22nd and leading into July, more than 100,000 residents were without power for days, while linemen and electricians were recruited from surrounding states to assist with our state of emergency.
With the restoration of power, families were able to begin assessing the damage to their homes and communities. With crews working around the clock, our city began to clean up and repair the plethora of broken trees and powerlines. While most people left powerlines and electrical issues to the professionals, many homeowners may not realize the damage that could occur from uprooting a tree stump or digging up a fallen mailbox.
Explorer Pipeline wants to remind everyone about the risks in storm clean up. Many homes in Tulsa are along the path of buried pipelines that transport petroleum products. As a precaution, before digging anywhere below the surface, homeowners and contractors should dial 8-1-1 to ensure the safety of the area.
811 is a free service to locate buried utilities before you start digging. Using 811 is the right thing to do and helps protect people and property from harm.
With more storms in the forecast for the coming weeks, make sure to take every precaution when cleaning up above and below the surface. Dial 8-1-1 before digging.
###
Explorer Pipeline is headquartered in Tulsa, Oklahoma, and has over 240 employees. It transports refined petroleum products through an 1872-mile pipeline system extending from Port Arthur, Texas to the upper Midwest and serves major markets, including Houston, Dallas, Tulsa, St. Louis, and Chicago. The southern system currently has a capacity of 660,000 barrels per day and the northern system currently has a capacity of 450,000 barrels per day.